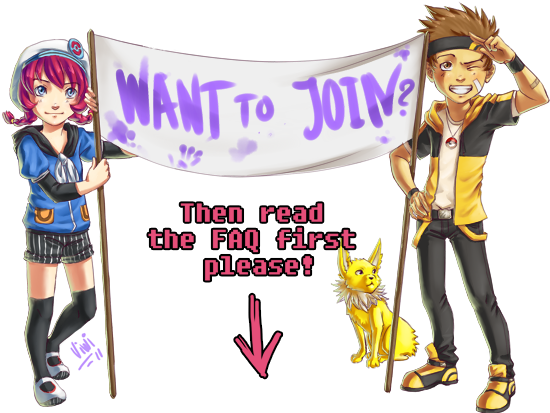 Hello there! Before joining make sure to read our rules and FAQ! Linked below is our FAQ and folders desc.

This club is to honour all Pokémon trainers around the world, near and far, official and original, etc!



Here, you can submit fan art of the more 'well known' Pokémon trainers and your very own fan characters, team rocket, and every human character in the series!

Everyone who loves Pokémon and the trainers included in the series are more than welcome to join!

But before you hit that join button please read through our ground rules and FAQ journal ( pkmn-trainers-united.deviantar… )

1. No pokémon only- or pokémon gijinka pictures.
This is a group manily for pokémon trainers, but we also accept artwork of breeders/gymleaders/team rocket and ever other human character you can think of from the pokémon series.

2. 100% your own work!
Which means no base dolls/recolors/remade pkmn sprites or anything like that.

3. No fetish/porn/nude pictures!
Please try to keep it within DA rules, people in swimsuits/bikinis, couples kissing, even two characters in bed snuggling is okay just keep it clean

4. No black and white pictures.
We only want your best work so do not send of doodles/sketches/lineart, they will get turn down at once unless it's the most epic sketches/lineart/doodle you have ever made.

5.Post in the right folder.
If you are unsure in which folder you are suppose to submit your artwork to just ask the Elite/ Team Rocket grunts or read the FAQ which you can find here: pkmn-trainers-united.deviantar…

6. When joining use the secret word!.
The word is 'hidden' somewhere here in the rules and FAQ, if you do not give us the secret word in your request it will be denied. Don't worry, we will give you more chances to find it and join, just try the first time!

To join just click on the join button, and tell us the secret word in your join request! The word can be found somewhere in the FAQ and rules!



German FAQ - pkmn-trainers-united.deviantar…
Spanish FAQ - pkmn-trainers-united.deviantar…
If you need a language translation please let us know!